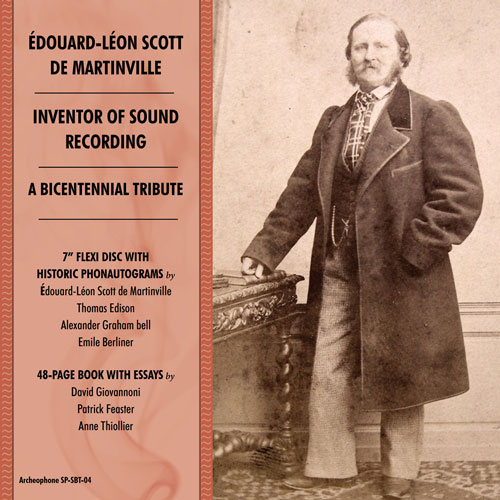 Edouard-Léon Scott de Martinville (1817–1879) invented sound recording twenty years before Thomas Edison re-invented it. But his phonautograph is only one of his many accomplishments. Here, at the bicentennial of his birth, his story is published in depth. This extensively illustrated 48-page softcover book presents new research on Scott and his role as the father of sound recording. Included is a 33-1/3 flexi disc with phonautograms not only by Scott, but also by famous inventors who were inspired by him and his invention: Alexander Graham Bell, Thomas Edison and Emile Berliner. List price: $22.00
OVERVIEW
Catalogue number: ARCH SP-SBT-04
UPC: 868490000234
ISBN: 9780997435917
Original release date: May 2, 2017
Running length: nearly 6 minutes / 7 tracks / 7-inch flexi disc
Notes & packaging: Packaged in a 48-page full-color 7 1/4 " by 7 1/4" softcover book
Includes a link to stream or download the audio
Tracks recorded: 1857-1889
In Archeophone's Special Products series
Tracks
Product Description
Explore Further
Additional Photos
Flexi disc tracklist
1.
The 1857 Phonautograms by Edouard-Léon Scott de Martinville
   –  Diapason donnant 512 vibrations par seconde
   –  Un son de voix grave tenu dans le voisinage de la membrane
   –  Timbre du cornet à piston
2.
The 1860 Phonautograms by Edouard-Léon Scott de Martinville (pt 1)
   –  S'il faut qu'à ce rival; Othello, Act 4, Scene 2
   –  Epellation du mot rira
   –  Le jour n'est pas plus pur que le fond de mon coeur; Phèdre, Act 4, Scene 2
   –  Au clair de la lune
3.
The 1860 Phonautograms by Edouard-Léon Scott de Martinville (pt 2)
   –  Gamme de la voix
   –  Chi crederia che sotto forme umane; Aminta
   –  Et incarnatus est de Chérubini; Missa Solemnis in D minor
   –  Vole, petite abeille; "La Chanson de l'Abeille," La reine Topaze
4.
The 1874 Phonautograms by Alexander Graham Bell

  –  Five vowel snippets from a photographic print at Library of Congress
  –  Five vowel snippets from the engraving in Prescott
  –  Each vowel snippet, first from the photographic print, then from Prescott

5.
The 1878 Phonautograms by Thomas Edison
  –  Train Sounds
  –  Vocalizations
6.
The 1887 Phonautograms by Emile Berliner
  –  Snippets of Vowels
  –  Recitation
7.
The 1889 Phonautograms by Emile Berliner
  –  Counting (1 to 20), Reiters Morgenlied
Edouard-Léon Scott de Martinville (1817–1879) invented sound recording twenty years before Thomas Edison re-invented it. But his phonautograph is only one of his many accomplishments. Here the partners of First Sounds—the team that played back an 1860 recording of "Au Clair de la Lune" in 2008 and brought Scott's achievement to the attention of the world—tell his story in depth.
David Giovannoni recounts Scott's invention and development of sound recording; Patrick Feaster details Scott's role as the father of sound technology; and noted French author Anne Thiollier offers the first modern biography of Scott, based on family papers. All three essays celebrate Scott's scientific and literary achievements at the bicentennial of his birth.
The 48 page, 7 1/4 square booklet includes previously unpublished photos of Scott and rare illustrations of early recording technology. The enclosed 33-1/3 rpm flexi disc presents several of Scott's recordings made in 1857 and 1860. Also featured are some of the earliest recordings made in the U.S. by Alexander Graham Bell, Thomas Edison, and Emile Berliner on experimental devices influenced by Scott's phonautograph. The book includes a link to stream or download the audio as well.