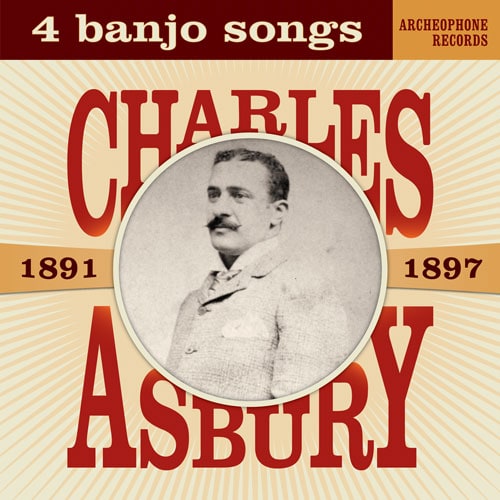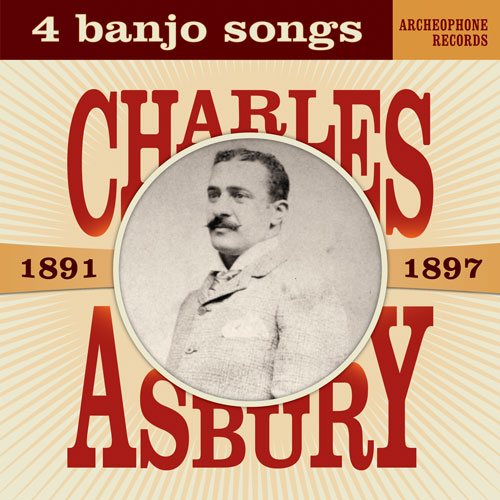 This May, you can hear what only a handful of people have ever heard: the oldest recordings of banjo songs in existence, played by an African American veteran of the minstrel stage, Charles A. Asbury. 4 Banjo Songs, 1891-1897 presents four of the rarest wax cylinders in a beautiful vinyl package. It is a seven-inch 45-rpm disc in a gatefold sleeve, with lyrics and a 16-page booklet of biographical and musical notes by Grammy-nominated authors Richard Martin and Ted Olson. List price: $16.99
OVERVIEW
Catalogue number: ARCH EPV-0704-181
UPC: 868490000241
Original release date: May 4, 2018
Running length: 4 track EP
Format: 7-inch 45 rpm vinyl
Notes & packaging: Packaged in a gatefold sleeve with a 16-page color booklet
Tracks recorded: 1891-1897
Tracks and Sound Samples
Product Description
Reviews & Praise
Explore Further
Additional Photos
Sample all tracks
Tracklist

1.
Haul the Woodpile Down
Charles Asbury
ca. 1893–94

2.
Never Done Anything Since
Charles Asbury
ca. 1892–93

3.
A New Coon in Town
Charles Asbury
1897

4.
Keep in de Middle ob de Road
Charles Asbury
ca. 1891
Foundational Recordings of America's Iconic Instrument
Now every music fan has the chance to listen to what only a handful of people have ever heard: the oldest recordings of banjo songs in existence, played by an African American veteran of the minstrel stage, Charles A. Asbury (ca. 1857-1903). Born in Florida but raised in Georgia by a Baptist preacher, Asbury played Sambo in stage productions of Uncle Tom's Cabin before becoming a noted vocalist with the original Unique Quartette and a celebrated banjoist on the vaudeville stage. His banjo songs were popular in phonograph arcades all over the country in the early 1890s, years before phonographs went into people's homes. He did yeoman work for the infant phonograph companies–churning out wax cylinders, a few at a time, for seven years–before disappearing abruptly from the annals of the stage and recording history. Did he fall ill? Was skin color a factor? The booklet accompanying this record unsnarls, for the first time, these mysteries about Asbury's background, ethnicity, and the era in which he both flourished and foundered. Another milestone is the use of CPS1–the first fully-integrated cylinder playback system–to transfer these rarities. Thanks to this recently developed technology, paired with careful restoration work, the stunning clear sound of these rarest of the rare wax cylinders from 125 years ago is finally heard.
The oldest recording on the set dates to about 1891, making it the oldest known banjo recording in private hands. Asbury played in the old minstrel "stroke" banjo style that virtually disappeared from the vernacular and has only in recent years been rediscovered and reinvigorated by scholars of American banjo music. Grammy-nominated authors Richard Martin and Ted Olson document both the previously unknown history of Charles A. Asbury and his style of playing, as well as his place in the tradition.
This is a seven-inch mono 45-rpm vinyl EP, housed in a double-pocket gatefold sleeve, with a lyric sheet and sixteen-page full-color booklet. The Grammy-winning production team of Meagan Hennessey and Richard Martin, in collaboration with John Levin and Ted Olson, have created a beautiful little set that packs an outsize punch.
"This mysterious recording was the missing musical link to an era when racism was the tune"
Geoff Edgers, The Washington Post, June 24, 2018
Graded on a Curve: Charles A. Asbury, "4 Banjo Songs, 1891–1897"
Joseph Neff, The Vinyl District, July 11, 2018
Review: Charles A. Asbury, 4 Banjo Songs
Bradley Kramer, The Glory-Beaming Banjo, July 2018
Black Grooves
"These four Asbury cylinders are historically significant, documenting a 19th century performance practice that sheds further light on the African American banjo tradition."
Brenda Nelson-Strauss, Black Grooves, August 2018
Alison Brown, Compass Records
"Charles Asbury's record is an incredible joy.   Hearing the banjo the way it sounded in 1894 is nothing short of magical and the recordings really changed my perspective about the sonic qualities of the instrument as it was played at the end of the 19th century.  I can't stop listening!  Thanks Archeophone for this amazing gift."
FROM OUR BLOG
Mystery Banjo Players Identified?
Last week we wondered whether record titles, such as those listed in a ca. 1891 catalog of the New Jersey Phonograph Company, might not all have been actually recorded. Then we traced the offerings of Charles Asbury in New Jersey/U.S. Phono. Co. and Columbia catalogs from 1892 through 1897 to see which of his records …
Continue reading

Mystery Banjo Players Identified?
→
posted: May 9, 2018
We said on Monday that maybe by comparing the early catalogs of cylinder companies we can figure out which titles were recorded for certain because they continued getting listed month after month and year after year. A title that appears in a catalog once and then disappears—perhaps that title never actually got made because no …
Continue reading

Charles Asbury's Top "Hits"
→
posted: May 4, 2018
ABOUT THE TECHNOLOGY
Learn about the CPS1 Cylinder Playback System used to transfer these rare cylinders.